According to Sapele Olofofo Unugbragada This is Minister Collins Gideon, a student of Otefe Polytechnic. Yesterday he was caught pants down with a fellow male.
According to our findings this guy is a fire brand minister of the gospel, when he stands singing the Glory of God down from heaven.
But according to the law of destiny, those who God call to use Satan Marks To Destroy.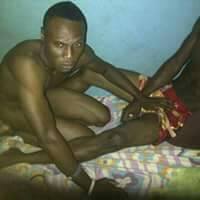 He was forced to continue for Pictures to be taken
I pray he bounce back to life.