The Ofala festival is an annual ceremony that celebrates the rich culture of the Onitsha people in the south eastern part of Nigeria.
Channels Television was in Onitsha to capture the sights and sounds of the 2016 edition of the colourful festival which marked the 15th year reign of the traditional ruler of Onitsha.
Guests from within and outside Anambra state, dressed in various traditional attires, gathered at the palace ground of the Obi of Onitsha, His Royal Highness Alfred Achebe, with the arrival of the Governor of Anambra State, Willie Obiano, marking the beginning of the celebration.
With the royal music called Egwu Ota, all the dignitaries moved to the venue of the celebration, where everyone waited patiently for the Obi's grand entrance.
Dressed in his ceremonial robe, carrying a bronze sword in his hand, Obi Alfred Nnaemeka Achebe emerged to a cheering crowd, as he went round to greet everyone.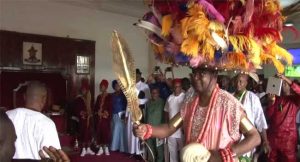 There was also a moment for the guest to savour something that is rarely seen – the dance of the King, which drew the admiration of all present.
From the 16th century, the Ofala festival has been a season of harvest and prosperity. It marks the end of a period of retreat when the Obi undergoes purification for the good of the community.
At the end of the week-long retreat, he emerges during the Ofala to bless his subjects and say prayers for the community.
The yearly festival has indeed continued to promote community development in Anambra state and the people pray to celebrate more joyous moments like the Ofala, as they show the world the rich and colourful culture of the Nigerian people in the south east.