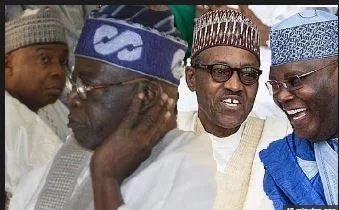 Ahead of the 2019 elections, major forces in the governing All Progressives Congress, APC, are currently in a suppressed war, which has split the party into four major factions.
The only difference now between APC and the opposition Peoples Democratic Party (PDP) is that in the former, it is a suppressed war, while in the latter, the party is divided along Ahmed Makarfi and Ali Modu Sheriff factions with cases on the leadership in various courts.
According to New Telegraph, there are three major tendencies in the party: Bola Tinubu, Abuja group and Buhari loyalists.
The Tinubu tendency, which has Chief Bisi Akande, former governor of Osun State and ex-Interim National Chairman of the APC with a few APC governors aligned, has been the subject of attacks from forces in the party. The tendency played a major role in the merger of the legacies party that coalesced to form APC.
The second group is the Abuja group with Governor Nasir el-Rufai of Kaduna State, Babatunde Fashola (Minister of Power, Works and Housing), Rotimi Amaechi (Minister of Transportation), and some other ministers as members.
The third tendency within the party is the core loyalists of President Muhammadu Buhari. Former Vice-President Atiku Abubakar, Senate President Bukola Saraki, Speaker Yakubu Dogara and some state governors are spread across the three tendencies.
The fourth tendency is the party leadership, especially the national chairman, John Odigie-Oyegun, and national legal adviser, Muiz Banire. The party leadership is more aligned to the Abuja group. All the groups are working at cross-purposes.
While the Tinubu-Akande tendency is today strategizing on how to hold on to the South- West front, the Abuja group, led by el-Rufai, is working with the Governor Ibikunle Amosun-led South-West block to take control of the party structures in the zone from Tinubu. It was learnt that major forces in the party see Tinubu as a common enemy ahead of 2019.
Source:
NewTelegraph