The dust generated by the protest that rocked the University of Port Harcourt (UNIPORT) in the Rivers State capital on Monday is yet to settle.
The students have insisted that some of their colleagues were shot by the Police during the protest; a claim the Police has debunked.

An amateur video made available to Channels Television showed protesting students of the University of Port Harcourt carrying the body of a slain student who they claimed was killed during the protest.
The Deputy Commissioner of Police in Rivers State, DCP Mobolaji Odesanya, dismissed the allegations of the students when he took journalists to the university on a fact finding mission.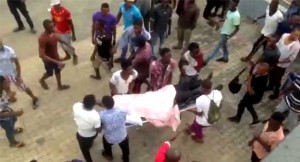 "On the issue of fatality, last night there was a case of a body that was recovered but very far from this area. The corpse is presently at the mortuary and ready for autopsy. Apart from that, (there is) none other.
"In any case, the Police did not move into this campus until very late around 9PM to 10.30 PM when the VC wrote officially to the Police to move in," he said.
Thousands of the aggrieved students protested against what they call the unjustified increase in tuition and other charges.
Meanwhile, the Vice Chancellor of the university, Ndowa Laale, has insisted that the students were peddling false information, claiming that there was no increase in tuition fees.
He said that the 45,000 Naira the students referred to was not school fees but a summation of charges for running the school.
"Because it is traditional among students not to write exams, those who have even paid of this ninety-something percent joined the less than 10% to make sure that the exam did not hold.
"That is all that is responsible for the massive destruction you see across the campus.
"Since I have been lecturing in the university system without any break of service for 34 years, I've never seen anything like it in any university. It was well orchestrated, I don't know what they intended to achieve.
"I understand that some of them were in touch with some persons who, for whatever reasons, want the VC out. Therefore, they thought that if they did that, the VC would be removed."
In a statement by Deputy Registrar in Charge of Information, William Wodi, all students were asked to vacate their hostel accommodation before 6: 00 PM.
According to him, students' union and their affiliate bodies have also been suspended till further notice.